Joinery Services Available in Hampshire
Jon Gillmore is a versatile craftsman operating from his workshop at Fairway Business Centre, Airport Service Road, Portsmouth - ideally placed for clients throughout the southern part of Hampshire.
Jon has may years' experience in manufacturing a huge variety of joinery products in wood and laminates for homes and also for the shopfitting industry. So, whether it's a row of toilet cubicles or a bespoke garden planter Jon Gillmore is sure to build you a high-quality product.
Examples of Joinery Work
You can see a selection of bespoke joinery products that have been manufactured in Jon's Portsmouth workshop on the gallery page of this website. Please be advised that this is just a small cross section of Jon's work and he is happy to discuss any carpentry job that demands the work of a reliable professional.
To maintain his high standards, Jon not only calls on his experience and woodworking skills but also places trust in his well-equipped workshop containing the latest tools and technology.
Jon is sometimes asked for advice about how to make carpentry and joinery a career - and he's as modest as he is talented. "I was always told to treat every customer's job as if I were doing the job in my own home. It's a rule that has worked well for me over the years", says Jon, "but it takes dedication and a fair amount of capital investment".
Tools Of The Trade
Jon says, "Tools are vitally important in the joinery trade. A chop saw e.g. will cost £800-£900, a mobile edge bander £2,500 which glues plastic edging on superbly and I think is better than the stand-alone version that can be used. A bandsaw is also vital - and that's another £800-£900 - and then of course there are the hand-tools."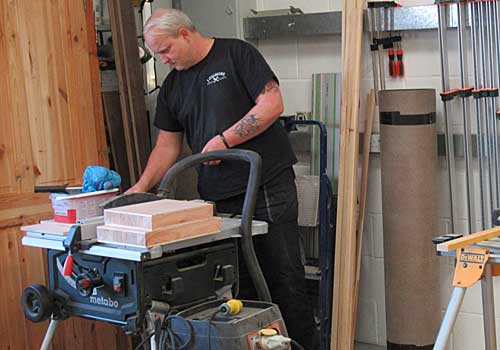 Shopfitting
Reception desks, shelving
Storage, WC cubicles
Kitchen units and cabinets
Replacement kitchen doors
Bathroom vanity units
Wooden doors and frames
Sash windows
Staircases, wooden flooring
Bespoke shelving
Banisters and handrails
Bespoke household furniture
Wardrobes, bookcases
Media units and cupboards